The big Budget Speech 2023 tax news was the introduction of tax incentives for investing in rooftop solar and renewable energy. The Budget also detailed tax relief in the form of adjusted tables for tax and rebates for individual taxpayers, adjusted tables for retirement tax and transfer duty, and the expected increases in 'sin' taxes. How will these changes affect you directly?
To better understand the impact of the Budget on you and your business, here is a selection of official SARS Tax Tables, then follow the link to Fin 24's Budget Calculator to do your own calculation.
Businesses – corporate tax rates unchanged*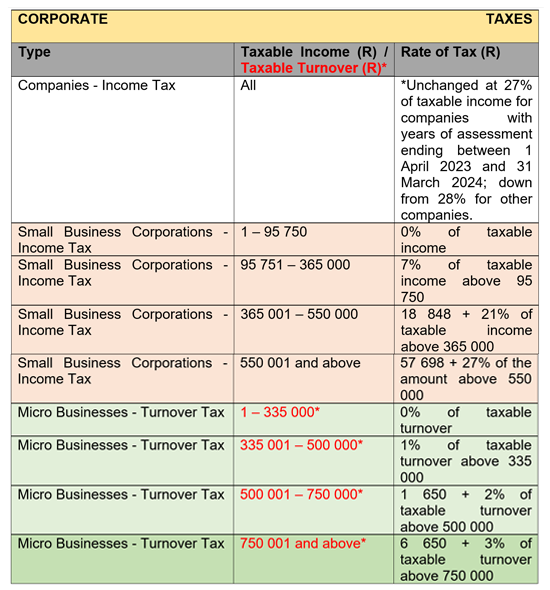 Source: SARS' Budget Tax Guide 2023
Individual taxpayers – tax tables adjusted

Source: SARS
Source: SARS

Source: SARS
Transfer duty table – adjusted

Source: Budget 2023 People's Guide
Sin taxes raised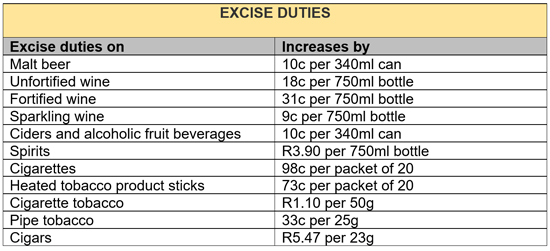 Source: Budget 2023 People's Guide
How much will you be paying in income, petrol and sin taxes?
Use Fin 24's four-step Budget Calculator here to find out the monthly and annual impact on your income tax, as well as what you will pay in future in terms of fuel and sin taxes, bearing in mind that the best way to fully understand the impact of the announcements in Budget 2023 on your own and your business affairs is to reach out for professional advice from your accountant.
Disclaimer: The information provided herein should not be used or relied on as professional advice. No liability can be accepted for any errors or omissions nor for any loss or damage arising from reliance upon any information herein. Always contact your professional adviser for specific and detailed advice.
© CA(SA)DotNews